"Runner's Tell All" is a monthly linkup for runners of all ages, skill levels, and experience hosted by Sunshine to the Square Inch and The Lady Okie. Each month we'll have a different topic, and you can find all the topics listed here. We are accepting two sponsorship spots for each month, who will receive a sidebar ad on both blogs as well as entry links in the giveaway. 100% of your sponsorship money will go directly toward running-related giveaways. Find more information on sponsorship here.
____________________________________________
When it comes to running gear, I feel like I've already covered this topic in depth. Feel free to c
heck out the following links for all of my favorite gear!
One thing I did want to show you guys that I haven't talked about yet on my blog is one of my favorite running-related things that I got for Christmas last year. My friend Justine made this medal holder for me! I love how I have a place to hang my medals and my bibs.
I guess you could consider this gear for my gear.
Pretty cool, no?
What do you do with your medals and bibs?
___________
Next month's topic
(Monday, April 21)
Share a Bad Race or Training Experience
and What You Learned From It
___________
March Giveaway
Well, they apparently have the best workout clothes ever.
I say apparently, because I don't actually own anything from there because it's dang expensive. But $30 is a good chunk of change, and one winner will get it!
Gift card will be sent via email. Giveaway is open internationally. (They ship almost anywhere in the world. I checked.)
a Rafflecopter giveaway
Runners Tell All Linkup Rules
You

MUST

leave a comment on the person's blog who linked up directly before you.

This is not a linkup for the sake of linking up. This is a linkup to build community and spread the love and encouragement to your fellow runners! Don't be lame.

Only link up posts related to our running prompt. Do not share links to unrelated running posts or to your blog's homepage, or we will have to delete your link. (I've done it before too, so I'm not joking.)
Please link back to either Beka or Amanda in your post so others can come here and join in! Or grab the button below and add it to your post.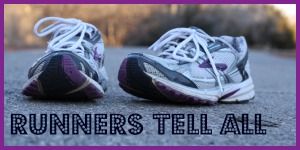 PSA: I will be in Texas this weekend hosting a bridal shower for my future sister-in-law, so I will most likely not be able to visit your blogs until next week. Don't think I've forgotten about you! I'll be sure to stop by. Thanks for linking up!