"Runner's Tell All" is a monthly linkup for runners of all ages, skill levels, and experience hosted by Sunshine to the Square Inch and The Lady Okie. Each month we'll have a different topic, and you can find all the topics listed here. We are accepting two sponsorship spots for each month, who will receive a sidebar ad on both blogs as well as entry links in the giveaway. 100% of your sponsorship money will go directly toward running-related giveaways. Find more information on sponsorship here.
____________________________________________


I joined the track team my freshman year of high school because I wanted a t-shirt.
I was slow, and I hated it, and all I got for my efforts was a neon green shirt that said,
"Fast Girls Have Good Times."
I was not amused.
I didn't run again until four years later, when a friend and I decided we wanted to start. Our first time out, we made it five minutes and vowed to keep at it until we could run for at least thirty minutes straight. We spent the next few months adding a minute every time.
Six. Seven. Eight.
The first time we ran thirty minutes without stopping, we couldn't have been prouder. I continued to run off and on throughout college and after graduating, never running longer than three miles.
In 2009, a friend ran the Oklahoma City half marathon, and I wondered if I could run a half marathon too. I thought about it for a year and finally registered for my first half in 2010 at the urging of a friend, who said she'd run it with me. I honestly don't know if I would have had the courage to sign up if it hadn't been for her.
I fell in love with running in 2013, when I started training for my first marathon.
That's when it became something I did for fun.
I love talking about it, writing about it, and doing it.
And I can't imagine my life without it.
____________________________________________
Next month's topic
Favorite Running Gear/Products
Include links and pictures if possible!
____________________________________________
February Giveaway


This month, thanks to our sponsors, Beka and I are giving away an "I Run This Body" t-shirt to 1 winner in the color of your choice! (See all the colors here.)
Runners Tell All Linkup Rules
You MUST leave a comment on the person's blog who linked up directly before you.

This is not a linkup for the sake of linking up. This is a linkup to build community and spread the love and encouragement to your fellow runners!

Only link up posts related to our running prompt. Do not share links to unrelated running posts or to your blog's homepage, or we will have to delete your link.
Please link back to either Beka or Amanda in your post so others can come here and join in! Or grab the button below and add it to your post.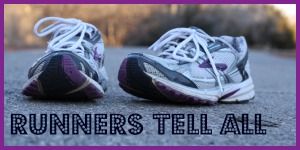 *Update 2/23: The Linky Tools server crashed and apparently took all the pictures with it! But the links are still good. Sorry about the lack of lovely link pictures!